36V Collapsible Quickie Mini Golf Cart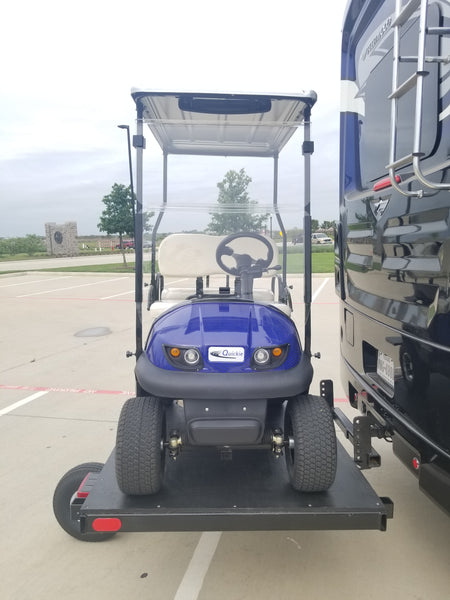 36V Collapsible Quickie Mini Golf Cart
We are Currently only taking orders over the phone.
Prior to placing an order, please review and make sure to read all of our Policy.
         

Please Call 832-240-5700 for assistance.
The Quickie Mini Golf Cart comes fully loaded.
Streamlined Rounded Front Design
Powerful 2000 Watt High Torque Motor
Standard 16 inch tall Tires with Polished 8 inch Aluminum Rims
Hard Top Roof with flip down windshield (All Quickie Roof's Come Standard Silver)
All Quickie-Cart Seats come standard as Grey.
Rear Flip Down Seat, for 2 extra passengers and it also flips down into a convenient cargo carrier for easy transporting of laundry, firewood, coolers, etc., large rear seat area with side grab rails for extra safety
Left side Sport Steering Wheel and Accelerator Pedal, for Ease of Operation and Handling as well as driver and Passenger comfort
Horn, LED Headlights, Brake Lights, Turn Signal Lights
Collapsible, Aluminum full frame, easily collapses in Height Fits in most 6 ft. and larger pickup truck beds, horse trailers, race car trailers, etc.
Battery charge indicator
Front and Rear Suspension Adjustable Shocks for Great Ride Stability, Control and Passenger Comfort,
Keyed ignition Switch Standard,
Front and Rear Seat Hand Rails
Easy to maintain, durable, comfortable and fun to drive.
Quickie Cart Specifications

:
Size:

 

 In "drive position", not including roof assembly:  89.5" L x 37.5" W x 74" H In "drive position", with roof assembly: 89.5" L x 37.5" W x 74." H  Completely Collapsed in height and rear footrest removed: 60" L x 37.5" W x 32" H
Weight: approx. 550 lbs. + or - depending on configuration
Seating capacity: 4 persons (with rear sear option)
Batteries: Standard: 12 volt, 80 AH x 3, sealed, Maintenance free
Battery Charger: Upgraded

 onboard 10 amp  W/ Automatic Shut-off.

Motor: 2000 Watt, high efficiency, 36 Volt,  DC Motor
Controller: Curtis controller
Speed Control: Foot operated traditional accelerator pedal for smooth operation
Direction Control: conveniently located Forward/Reverse switch
Lights and Horn: LED Headlights, Taillights, Turn signals and Horn all standard
Maximum vehicle speed: approx.  15-16MPH depending on terrain and payload.
Steering: Rack and pinion
Brakes: Regenerative electromagnetic motor braking, with automatic electromagnetic parking brake
Braking distance: <13FT
Suspension: Adjustable, Front and Rear Shocks and Springs
Maximum grade ability: approx. 20%, Incline or Decline depending on terrain and payload
Pay Load weight: approx. 600 lbs. (including passengers and load)
Charge time: approx. 6 to 8 hours, depending on battery discharge state.
Running period of a charge: approx. 6 to 8 hours, depending on type of use and terrain
Travel Range: approx. 40 km, depending on terrain, payload and battery configuration.  (25Mi.)
Frame: Heavy Duty Aluminum Tube Main Frame with MIG Welded high tensile steel sub frame sections
Body: PP - Molded polymer-reinforced plastic
Tires: 16 x 6.50 - 8 Tubeless on Polished Aluminum Rims
Steering Wheel : Collapsible
Dashboard : Carbon Fiber
Warranty :1 year on Mechanical Quickie Cart / 6 Months on electronics. 


Once your Quickie Cart Color has been selected, and we have wrapped it there will be a %25 Restocking fee if you cancel your order. 
(Whether it has shipped or not, Due to Custom color choices and labor involved)
By placing an order, you agree to Quickie Products LLC'S Policy and Warranty Procedures.